Rahu in Scorpion Sign
1)Before knowing the effect of Rahu in Scorpion sign first we have to know about Rahu and Scorpion Sign. Scorpion Sign is 8th house of kalpurush and Rahu is placed here so you may read Rahu in 8th house.
2)Now let's we know from classical book regarding Rahu in Scorpion Sign
Bhirgu Nadi
When Rahu in Scorpion Sign in birthchart native will take birth in house which is situated in northern part of city. And the road in front of birth house may running from North to South. He may be suffering from disease belongs to sexual organs. Such as for male, he has less sperm count and for female, she has less discharge of blood during menstrual cycles or having dryness in the vagina. He has got a lots of scope regarding his profession from forigen lands or country. His wife may be doing a lots of expenses freely. He may facing danger during Sexual acts. His father may has few friends but his grandfather may be lord of huge land. Rahu in Scorpion Sign may cause danger from machinery or electrics.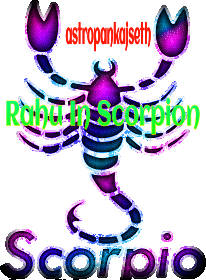 3) Rahu in Scorpion Sign making native very jealous. He may be short temper. He may be suspicious. He may be prove very dangerous for his enemy. He may be very dangerous from thoughts and acts.
4)Rahu in Scorpion Sign indicating native may be involving in finding hidden matters. He may be interested in research, tantra, occult etc.
5) Rahu in Scorpion Sign makes native quarrelsome. He has not good mentality or may be mentally ill.
6)Rahu in Scorpion Sign indicating native may has fear from poison, snake, unnatural things etc. He may has very high sexual desire so generally he doesn't get satisfaction regarding bed pleasure. He may not has good morality. It may also cause he may get death in unnatural ways.
7)Rahu in Scorpion Sign indicating native may gets sudden loss or profits from unnatural ways.
8)If you want to know more about Rahu you may read this link.