Rahu In Seventh House
1)Before Knowing Effect of Rahu In 7th House we have to Know about Rahu and 7th House. So You May read this
Seventh House—Dara Bhav–
http://astropankajseth.co.in/2015/04/seventh-house-dara-bhav/
Accelerating Planet of Materialist world Rahu—
http://astropankajseth.co.in/2015/03/accelerating-planet-of-materialistic-world-rahu/
2)7th house belongs to marriage and when Rahu occupy 7th house it is indicating, Native may facing Drama or troublesome at marriage time. It may be in many form depending on horoscope.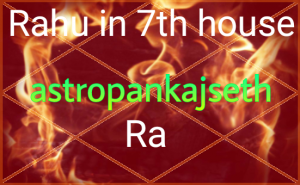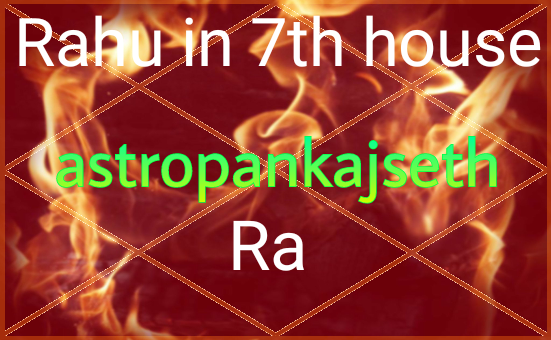 3)Rahu in 7th house, native's life partner may be from outer caste or other cultures or from foreign land. Native maybe try to make relationship with such type of women. There may be difference between nature of native and his life partner. It may be indication of unhappy marriage life because both are not cooperating each other. Native's partner doesn't has good moral conduct. If benefic planet aspects Rahu then evil effect may reduced and conditions may improve.
4)7th house is also a Marak house and when Rahu occupy 7th house, it is not consider good regarding native's health. Native or his wife may be facing sexual disease (specially hidden disease because Rahu belongs to hidden matter). Native's partner may be suffering from spirits problem or may be diabetes or unnatural matters. It may cause of unnatural death of native or his life partner depending on horoscope.
5)7th house is bhavat bhavam for 4th house so Rahu in 7th may cause for Mental stress and maybe this stress be due to Marriage problem or from Women.
6)7th house Rahu is indicating native may be doing love marriage (depending on other matter of horoscop supported). So it is considered Native (specially woman) gives disfame to family in old age.
8)Rahu in 7th house may cause for legal problem for native.
9)Rahu in 7th House native may be flirting type nature. Native have more attachment with opposite gender. It may also cause for more than one marriage.
10)Rahu in 7th House means native may be independent and comfort lover. Native may be clever but involving in foolish work. Native doesn't believe in tradition culture. Native may be food lover.
11) Rahu in 7th House may be cause for foreign stay because 7th house and Rahu both belongs to foreign travel.
12)Rahu in 7th house is also impacting on native profession due to bhavat bhavam of 10th house. And its effect may depend on Rahu conditions in horoscop. 7th house Rahu may indicating success in politics or industry or own work because Rahu doesn't like work under anyone.