Jupiter In Scorpion Sign
1)Before knowing effect of Jupiter in Scorpion Sign we have to know about Lord of sky Jupiter and Scorpion sign. Scorpion is 8th house of kalpurush and Jupiter is placed here so you may read Jupiter in 8th house. Jupiter is lord of 9th and 12th house of kalpurush and placed in 8th house of kalpurush so you may read Ninth house lord in 8th house and 12th house lord in 8th house.
2)Now let's we know from astrological classical book regarding Jupiter in Scorpion Sign
Brihat Jatakam
When Jupiter in the house of Mars (either Aries or Scorpion) native will Chief of army. He will have huge wealth. He will have many wives and children. He will be charitable and having good servants. He will be liberal and handsome. He will be kind by nature and famous.
Saravali
When Jupiter in Scorpion Sign in birthchart native will be experts in many sastra. He will be king. He will be experts in doing translation of many languages. He will be skillful. He will be executor of temples and towns(such as priest or secretary of town). He will have many but good wives. He will have few children. He will be suffering from disease. He will have to do very hard work. He will show his anger. He will be arogent. He will be inclined towards religion. He will be always inclined towards fullfil of his disgusting desires.
Yavanjatakam
Jupiter in Scorpio produces a base man who has many groups of enemy. He is an ill-mannered person who is cheating his friends and is fond of doing fraud. He is a harmful hypocrisy maker with a terrible wife. He is a man who is attached to faults and is seriously afflicted by diseases. He will be a man who is not so much energetic in performing cruel deeds. He will be unrighteous (adharma) person who acts in a disgusting manner. He may be gets dishonored by others and suffering from debts.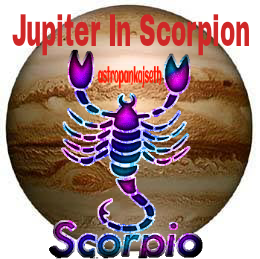 3)Jupiter is karak of wisdom and when it is placed in secret rashi Scorpion native may have secrecy in behavior. He may be jealous by attitude. He may be emotional and violentic from behavior or shows angers in behavior. It may also cause kapha related problems.
4)Jupiter is karak of vidya and it is placed in Scorpion Sign so native may gets secret or hidden vidya or occult knowledge. He may be interested in research field. Jupiter in Scorpion means Moksh house of kalpurush so native may be religious and spiritual by behavior. Native may be kind from heart.
5) Jupiter in Scorpion Sign indicating native may be try to find the inner truth of religion and in such position he may try to establish different thoughts about religions in comparison to popular way. In simple words Jupiter in Scorpion it may be seems native contradict popular way of religious beliefs. But overall Native may be spiritual and religious.
6)Jupiter in Scorpion Sign indicating native don't have a easy going life. Native may have suffering regarding his fortune. Native may gets wealth through hidden sources, illegal ways or sudden ways.
7)Jupiter in Scorpion Sign indicating native may be suffering from blaming regarding his morality or conduct. Native may gets happiness of bed pleasure or his Sexual morality may be doubtable.
8)Jupiter in Scorpion Sign indicating native may be suffering from disease. It may cause abdominal problems.
9)If you want to know more about Jupiter then you may read this.