I am happy to announce New Batch Of Astrological classes For Basic Bhav Analysis. Starting from 5 July.
After writing a lots of astrological articles, so many readers pushing me to start a astrological classes based for Beginners through which we learnt in systematic ways. So finally I am deciding to start My first Batch of Astrology classes. After running 4succesful batch. Now again i am coming with New Batch of Astrology classes based on Beginning Level.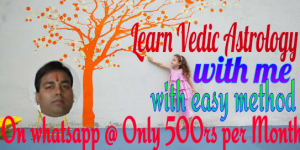 Course details — In Beginner leave level Classes we learnt about
1)Sign and its significant
2) Planet and its significant
3) Kaalpurush concept
4) Meaning and significant of Bhav.
5)Bhav effect
6) Effect of planet in different Bhav
7) Effect of Bhav lord in different Bhav
8) Vishonttary Dasha
9) Reading of horoscope.
Book We Cover —
1)How to Jujde a horoscope
2)Ganesh Hora Sastra
3) Brihat Parasar Horasastra
4) Phaldipika
5)Jatak Parijat
6) Yavanjatakm
7)Sambhu Hora Prakash
Way Of Classes — Classes held on WhatsApp which is currently a best social platforms. Classes may be held on alternate days from 5pm to 6pm.
Course Fees — 500rs Per months and you have to deposit 3month fee advance.
Classes Starting From 26 May
Join Now

Course metarial — I am providing My PDF file for your learning.
Contact details — If you are interested you may contact me
Phone —- +919934149899
WhatsApp–+919934149899
On Facebook — http://facebook.com/astropankajseth