Rahu In Aquarius Sign 
1)Before knowing the effect of Rahu in Aquarius Sign first we have to know about Rahu and Aquarius Sign.  Aquarius Sign is 11th house of kalpurush and Rahu is placed here so you may read Rahu in 11th house.
2)Now let's we know from different classical book regarding Rahu in Aquarius Sign
Bhirgu Naadi 
When Rahu in Aquarius Sign in birth chart native will born in western part of city which is situated in besides a watery places. The Road in front of birth house is running from West to east. He will be day dreamer. He may be suffering from problems in calves or legs. He has secret friendship. He has traveling lots of long distance travel. It may also possible he may goes for holy places for visiting. His mother's may die in forigen land or unnatural ways. He has good relationship with daughter in law's or son in law's. His father may earn a lots but either he lost all his money or spend his money or waste his money. He may be suffering frequently losses in his business. He may has mystical power. He may has danger from flowing water.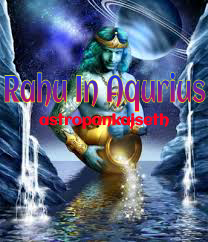 3) Rahu in Aquarius Sign indicating native may has lots of hidden desires. He is very imaginative. He has power to analyze any matters with help of his hidden quality.
4) Rahu in Aquarius Sign indicating native may has desire for making higher status friends. He may use his friendship for cheating or frauds with friends. Or he is smart in making money from his friend circle.
5)Rahu in Aquarius Sign indicating native is smart in money making. He makes huge profits by wrong way or true way. He may be earn through forigen matters. He has multiple ways of earnings.
6)Rahu in Aquarius Sign indicating native may has not sound health. He may be very sensual.