Ketu In Capricorn Sign
1)Before knowing the effect of Ketu in Capricorn Sign first we have to know about Ketu and Capricorn Sign. Capricorn is 10th house of kalpurush and ketu is placed here so you may read Ketu in 10th house.
2)Now let's we know from different classical book regarding Ketu in Capricorn Sign
Bhirgu Nadi
Ketu in Capricorn Sign in birthchart indicating native may be suffering from problems in their knees. He may walk on the path of liberation and he will suddenly gets liberation in their life. He may be a good teacher or preacher or good advisor. He may spered spiritual knowledge to small locality. He may takes birth near a holly water or shifts near holy water. He may be suffering regarding his professional life or due to government. He may facing a lots of problems due to his father or he may leave his family due to his father. He may have good reputation in a small level. He may facing danger of death by drowning. He may faces losses from South direction.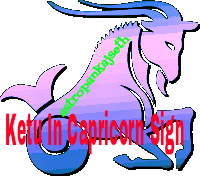 3)Ketu in Capricorn Sign indicating native may be assumed as very discipline man or strictly by behavior. He may be non compromiser. He is involving in criticism. He may be very selfish. He has very strong will power.
4)Ketu in Capricorn Sign indicating native may has unstable professional life. Native may facing a lots of transformation in his profession. He may be changed a lots of profession. He may be suffering losses in his profession.
5)Ketu in Capricorn Sign may cause mental stress to the native.He doesn't good social behavior. His behavior regarding society may be harsh. He may be brave and bold person.
6)He may be very smart and cleaver but he doesn't use his cleverness in right direction. He may be doing jobs for religion or spirituality. His social image may be religious or spiritual person. He may lost his parental property. Or father may not corporate him.
7)If you want to know more about Ketu you may read this link.