Saturn In Scorpion Sign
1) Before knowing the effect of Saturn in Scorpion sign first we have to know about Saturn and Scorpion sign. Scorpion sign is 8th house of kaalprush and Saturn is placed here so you may read Saturn in 8th house. Saturn is lord of 10th and 11th house of kaalprush and placed in 8th house of kaalprush so you may read 10th house lord in 8th house and 11th house lord in 8th house.
2)Now let's we know from different classical book regarding Saturn in Scorpion sign
Brihat Jatakam
When Saturn in Scorpion sign Native will get imprisonment and may gets penalty just like death. He is active and merciless.


Saravali
When Saturn in Scorpion sign in birth chart Native will has jealousy with others. He is crooked. He gets injury from poison and weapons. He has very high ill temper. He is greedy, egoistic and rich. He is capable to stolen others money. He doesn't like instruments played on festival occasion. He is doing weaked acts. His hearts has many types of sorrows. He is suffering from depreciation, expenses and disease.


Yavanjatakam
Saturn in Scorpion sign in horoscope produces a man who gets delights in enmity and harshness. He is devoid from dharma or rightness. He is burnt by position and swords. He will be fierce in anger. He has many types of miseries.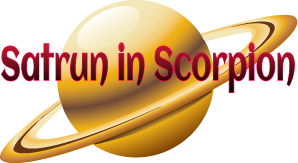 3) When Saturn is placed in Scorpion native may be suffering from long term disease. He may be suffering from piles. He may be sensual. He may be interested in outcast women. He has immoral or hidden desires.
4) Native may be suffering from legal problems. He may be facing blaming. He may be doing lower class acts. He may be suffering unhappiness from children.
5)Native may has abdominal problems or digestive problems. He may be suffering alots of obstacles in his life path. He may be suffering a lots of up&down in his financial status and life status. He may has a lots of obstacles in his professional life. He doesn't has a smooth life.
6) Saturn in Scorpion sign indicating native may be cruel and harsh in behaviour. He has rough speech. He may suffering from humiliation. He may be gambler. He has hidden source of income. He may be cheating others or suffering from frauds. He may be suffering from debits. He has intuition power.
7)If you want to know more about Saturn then you may read this link.