Saturn In Capricorn sign
1) Before knowing the effect of Saturn in Capricorn sign first we have to know about  Saturn  and  Capricorn Sign.  Capricorn is sign of 10th house of kaalprush horoscope and Saturn is placed here so you may read Saturn in 10th house.  Saturn is lord of 10th and 11th house of kaalprush and placed in 10th house so you may read 10th house lord in 10th house and 11th house lord in 10th house.
2)Now let's we know from different classical book regarding Saturn in Capricorn sign
Brihat Jatakam 
When Saturn in Capricorn sign or Aquarius sign in horoscope Native will has desire of other's man women and wealth. He is leader of town, force or village. He has little eye sights or not thinking for long terms or having bad thoughts. He is not well dressed. He has stable wealth and prosperity. He is enjoying materialistic happiness.
Saravali 
When Saturn in Capricorn sign  in horoscope native will be lord of other's women and land. He is endowed with vedic knowledge and good qualities. He is skillful in many types of fine arts. He is great man and honrable in own vansh( clan). He respect other guys. He is famous. He will be inclined towards bathing and makeup own self. He is skillful in jobs or acts. He is inclination towards forigen travel. He shows braveness. He is very skillful in social behaviour.
Yavanjatakam
Saturn in Capricorn sign produces an outstanding man who is honoured among his family clan. He knows well about how to speak regarding affairs. He has many crafts knowledge. He is a traveler who gets honour by multitudes. He is lord of other's land, homes, and wives. He takes pleasure in sexual intercource, bathing and ornaments. He will be endowed with quality of generosity, courageous, ancestry, politeness, scared tradition, wealth and position.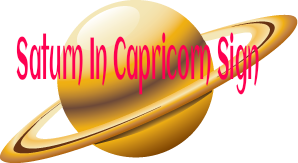 3)Saturn in Capricorn Sign indicating native may be struggling in early age regarding profession afterward he gets very good success in his life. He has good social behavior. He has good name and fame in society. He will receive honor from lower class, employee and co-workers. He gives social help to lower class .
4)He is rich, learned, brave, and hard working man. He is strict regarding law and rules. He has mentel Stress.
5) He is interested in politics. He may be leader of lower class. He may gets post of leadership in lower level. He has to take family responsibility. He may goes to forigen place. He has good judgement ability.
6)If you want to know more about Saturn you may read this link.