Vashy guna milan
  Kundali Matching Part – 3
Vashy is natural character of rashi. It is giving indication of their physical activity .
Such as Aries and Taurus are chtuspad rashi.
Gemini Libra Virgo Sagittarius and Aquarius are Dwipad(manav) rashi.
Capricon cancer and Pisces are Jalachar rashi .
Leo is vanachar and scorpion is keet.
So simply it is  allotted according
to your birth rashi(where your moon is
placed). As we know that Moon is karak
of our mind . Mind is directed native regarding Physical activity. So we match Vashy for physical comfort or physical control over each
other .
When your rashi is vanachar then a chtuspad manav and keet never get comfort because they are food for Vanachar.
Simply chtuspad is comfort with
chtuspad. But chtuspad also adjust with manav and keet.
Again manav is comfort with manav but they also adjust with chtuspad and keet and again a
little adjust with Jalachar.
Jalachar is comfort with Jalachar but adjust with chtuspad, vanachar and keet also a little
adjust with manav.
Keet is comfort with keet and adjust with chtuspad, manav, Jalachar .
But main purpose of this
matching is control over each other.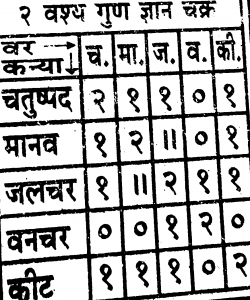 Method of Vashya Matching
If the native is quadruped or chtuspad
A)Jatika is chatuspad then 2 points
B) Jatika is dipad or manav then1 point
C)Jatika is jalchar then1 point
D) Jatika is vanchar then 0 points
E) Jatika is keet then1 point
If the native is Dipad or Manav
A)Jatika is chatuspad then 1 points
B) Jatika is dipad or manav then 2 point
C)Jatika is jalchar then 0.5 point
D) Jatika is vanchar then 0 points
E) Jatika is keet then1 point
If the native is Jalchar
A)Jatika is chatuspad then 1 points
B) Jatika is dipad or manav then 0.5 point
C)Jatika is jalchar then 2 point
D) Jatika is vanchar then 1 points
E) Jatika is keet then1 point
If the native is Vanchar
A)Jatika is chatuspad then 0 points
B) Jatika is dipad or manav then 0 point
C)Jatika is jalchar then 1point
D) Jatika is vanchar then 2 points
E) Jatika is keet then 0 point
If the native is Keet
A)Jatika is chatuspad then 1 points
B) Jatika is dipad or manav then 1 point
C)Jatika is jalchar then1 point
D) Jatika is vanchar then 0 points
E) Jatika is keet then 2 point
In the next issue we shall obtain information about the Tara matching
हिन्दी मे पढ़ने के लिए लिंक पर क्लिक करे ।